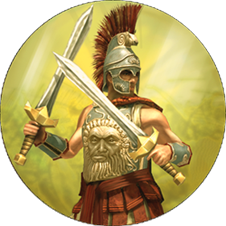 The Warrior excels at dealing out physical damage but pays little heed to defence. With higher mastery levels the Warrior can learn to deal damage to several adversaries at once.
Skill Tree
Edit
Below follow all the skills in the Warfare Mastery
Mastery Level
Skills
32
24
16
10
4
1
Skill Unlocks
Edit
Skill Summary
Edit
Weapon Training
Battle Rage (Crushing Blow - Counter Attack)
Onslaught (Ignore Pain - Hamstring - Ardor)
Dual Wield (Hew - Cross Cut - Tumult)
Dodge Attacks
War Horn (Doom Horn)
Battle Standard (Triumph)
War Wind (Lacerate)
Ancestral Horn
Mastery Progression
Edit
Provides physical conditioning and discipline that will allow your character to master the skills of a warrior.
| Mastery Level | Strength Bonus | Dexterity Bonus | Health Bonus |
| --- | --- | --- | --- |
| 32 | 64 | 64 | 1280 |
| 31 | 62 | 62 | 1240 |
| 30 | 60 | 60 | 1200 |
| 29 | 58 | 58 | 1160 |
| 28 | 56 | 56 | 1120 |
| 27 | 54 | 54 | 1080 |
| 26 | 52 | 52 | 1040 |
| 25 | 50 | 50 | 1000 |
| 24 | 48 | 48 | 960 |
| 23 | 46 | 46 | 920 |
| 22 | 44 | 44 | 880 |
| 21 | 42 | 42 | 840 |
| 20 | 40 | 40 | 800 |
| 19 | 38 | 38 | 760 |
| 18 | 36 | 36 | 720 |
| 17 | 34 | 34 | 680 |
| 16 | 32 | 32 | 640 |
| 15 | 30 | 30 | 600 |
| 14 | 28 | 28 | 560 |
| 13 | 26 | 26 | 520 |
| 12 | 24 | 24 | 480 |
| 11 | 22 | 22 | 440 |
| 10 | 20 | 20 | 400 |
| 9 | 18 | 18 | 360 |
| 8 | 16 | 16 | 320 |
| 7 | 14 | 14 | 280 |
| 6 | 12 | 12 | 240 |
| 5 | 10 | 10 | 200 |
| 4 | 8 | 8 | 160 |
| 3 | 6 | 6 | 120 |
| 2 | 4 | 4 | 80 |
| 1 | 2 | 2 | 40 |
Classes Made With This Mastery
Edit
Single class mastery:
Cross-class masteries:
Items that add a point to all skills
Edit