Featured Creature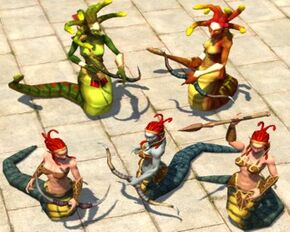 The Gorgons are Beastman creatures encountered in the Greece and are only the second Featured Creature after the Yerren spent five years on the front page. Read more...
You can help!
The TQ Wiki is currently undergoing an update and lots of new stuff has been added in the past few weeks. However, there's still some content missing here and we'd like to welcome you to help wherever you can.
Not sure where to start?
Adding content
Talk and more...
Check out the community portal to see what the community is working on, to give feedback or just to say hi.
Latest Versions
Titan Quest: Anniversary Edition - Ragnarok 1.57
Titan Quest 1.30 / 1.3
Fanpatch 1.17a + Patchfix for Fanpatch 1.17