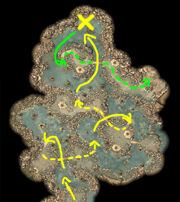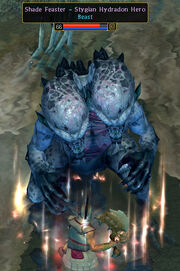 This is a Side Quest in Hades (Act IV). There is a shade eating monster in the swamps beyond the River Styx. Go kill it.
Walkthrough
Talk to Copreus near the Styx portal to receive the quest
Go to the northern tip of the third basin of the Stygian Marsh and kill the Shade Feaster. It is marked with a yellow ! on your radar as you get close.
The image shows the path to the monster in yellow and the path from there to the region exit in green.
Note: Rumor has it that the Shade Feaster is sometimes in the south eastern corner of the marsh.
Reward
Normal difficulty: 35,000 Experience, +4 to Str/Int/Dex
Epic difficulty: 80,000 Experience, +6 to Str/Int/Dex
Legendary difficulty: 210,000 Experience, +8 to Str/Int/Dex
Note: You got the popup message about bonus stats 2 times (after completing the missions and after first login to the game on this character), this is a visual bug, you receive the reward only once (tested on 09.10.2019, confirmed on 02.03.2012).