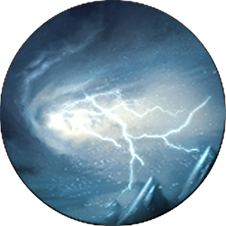 Excels at dealing massive lightning and cold damage to single opponents or small groups. The Stormcaller has limited personal defences but can slow, freeze and stun enemies with frost and thunder attacks
.
Skill Tree
Below follow all the skills in the Storm Mastery (click on any skill to learn more):
Numbers in brackets indicates required mastery level, indents indicates skill upgrades.
Mastery Progression
Provides the mental control and spiritual focus to unfetter your mind of earthly concerns and learn to harness the elemental power of weather
.

Each point spend on Storm Mastery provides:
1 Dexterity
3 Intelligence
21 Health
15 Energy
Attribute gains from mastery use unusual rounding, for exact values at various levels refer to the table below:
| Mastery Level | Dexterity Bonus | Intelligence Bonus | Health Bonus | Energy Bonus |
| --- | --- | --- | --- | --- |
| 40 | 40 | 120 | 840 | 600 |
| 39 | 39 | 117 | 819 | 585 |
| 38 | 38 | 114 | 798 | 570 |
| 37 | 37 | 111 | 777 | 555 |
| 36 | 36 | 108 | 756 | 540 |
| 35 | 35 | 105 | 735 | 525 |
| 34 | 34 | 102 | 714 | 510 |
| 33 | 33 | 99 | 693 | 495 |
| 32 | 32 | 96 | 672 | 480 |
| 31 | 31 | 93 | 651 | 465 |
| 30 | 30 | 90 | 630 | 450 |
| 29 | 29 | 87 | 609 | 435 |
| 28 | 28 | 84 | 588 | 420 |
| 27 | 27 | 81 | 567 | 405 |
| 26 | 26 | 78 | 546 | 390 |
| 25 | 25 | 75 | 525 | 375 |
| 24 | 24 | 72 | 504 | 360 |
| 23 | 23 | 69 | 483 | 345 |
| 22 | 22 | 66 | 462 | 330 |
| 21 | 21 | 63 | 441 | 315 |
| 20 | 20 | 60 | 420 | 300 |
| 19 | 19 | 57 | 399 | 285 |
| 18 | 18 | 54 | 378 | 270 |
| 17 | 17 | 51 | 357 | 255 |
| 16 | 16 | 48 | 336 | 240 |
| 15 | 15 | 45 | 315 | 225 |
| 14 | 14 | 42 | 294 | 210 |
| 13 | 13 | 39 | 273 | 195 |
| 12 | 12 | 36 | 252 | 180 |
| 11 | 11 | 33 | 231 | 165 |
| 10 | 10 | 30 | 210 | 150 |
| 9 | 9 | 27 | 189 | 135 |
| 8 | 8 | 24 | 168 | 120 |
| 7 | 7 | 21 | 147 | 105 |
| 6 | 6 | 18 | 126 | 90 |
| 5 | 5 | 15 | 105 | 75 |
| 4 | 4 | 12 | 84 | 60 |
| 3 | 3 | 9 | 63 | 45 |
| 2 | 2 | 6 | 42 | 30 |
| 1 | 1 | 3 | 21 | 15 |
Classes
| Masteries | Class |
| --- | --- |
| | Stormcaller |
|  +  | Thane |
|  +  | Paladin |
|  +  | Elementalist |
|  +  | Sorcerer |
|  +  | Sage |
|  +  | Druid |
|  +  | Oracle |
|  +  | Prophet |
|  +  | Thunderer |
Related Items
These items add points to all skills in the mastery: