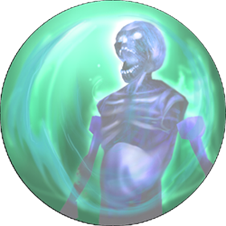 The Theurgist combines offence and defence with insidious life stealing skills that leech enemies' vitality while bolstering their own. At higher levels the ability to summon a powerful Liche King dramatically increases damage-dealing ability.
Skill Tree
Below follow all the skills in the Spirit Mastery (click on any skill to learn more):
Skill Unlocks
Mastery Progression

"Provides the arcane knowledge and mental discipline to study the dark art of controlling spirits".
| Mastery Level | Dexterity Bonus | Intelligence Bonus | Health Bonus | Energy Bonus |
| --- | --- | --- | --- | --- |
| 40 | 60 | 120 | 800 | 320 |
| 39 | 58 | 117 | 780 | 312 |
| 38 | 57 | 114 | 760 | 304 |
| 37 | 55 | 111 | 740 | 296 |
| 36 | 54 | 108 | 720 | 288 |
| 35 | 52 | 105 | 700 | 280 |
| 34 | 51 | 102 | 680 | 272 |
| 33 | 49 | 99 | 660 | 264 |
| 32 | 48 | 96 | 640 | 256 |
| 31 | 46 | 93 | 620 | 248 |
| 30 | 45 | 90 | 600 | 240 |
| 29 | 43 | 87 | 580 | 232 |
| 28 | 42 | 84 | 560 | 224 |
| 27 | 40 | 81 | 540 | 216 |
| 26 | 39 | 78 | 520 | 208 |
| 25 | 37 | 75 | 500 | 200 |
| 24 | 36 | 72 | 480 | 192 |
| 23 | 34 | 69 | 460 | 184 |
| 22 | 33 | 66 | 440 | 176 |
| 21 | 31 | 63 | 420 | 168 |
| 20 | 30 | 60 | 400 | 160 |
| 19 | 28 | 57 | 380 | 152 |
| 18 | 27 | 54 | 360 | 144 |
| 17 | 25 | 51 | 340 | 136 |
| 16 | 24 | 48 | 320 | 128 |
| 15 | 22 | 45 | 300 | 120 |
| 14 | 21 | 42 | 280 | 112 |
| 13 | 19 | 39 | 260 | 104 |
| 12 | 18 | 36 | 240 | 96 |
| 11 | 16 | 33 | 220 | 88 |
| 10 | 15 | 30 | 200 | 80 |
| 9 | 13 | 27 | 180 | 72 |
| 8 | 12 | 24 | 160 | 64 |
| 7 | 10 | 21 | 140 | 56 |
| 6 | 9 | 18 | 120 | 48 |
| 5 | 7 | 15 | 100 | 40 |
| 4 | 6 | 12 | 80 | 32 |
| 3 | 4 | 9 | 60 | 24 |
| 2 | 3 | 6 | 40 | 16 |
| 1 | 1 | 3 | 20 | 8 |
Classes Made With This Mastery
| Masteries | Class |
| --- | --- |
| | Theurgist |
|  +  | Spellbreaker |
|  +  | Spellbinder |
|  +  | Conjurer |
|  +  | Oracle |
|  +  | Warlock |
|  +  | Bone Charmer |
|  +  | Soothsayer |
|  +  | Diviner |
|  +  | Shaman |
Related Items
These items add points to all skills in the mastery: