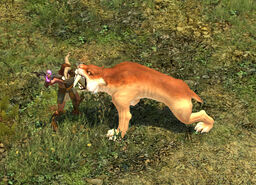 Monsters > Beasts > Saberlions
Saberlions are beasts roaming the Orient (Act III). There are no variants, and they have no special abilities. They usually appear in packs or as part of a group of neanderthals. Neanderthal Saber Riders are mounted on Saberlions (they count as a single monster).
Monster Charm: Saberlion may drop a Saber Claw fragment.
Heroes