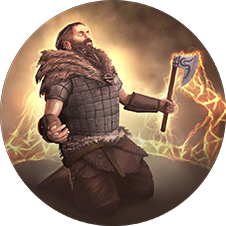 "The warrior-shamans of the North inscribe their weapons and armor with magical runes, or cast them on the ground to control the battlefield. Drawing power from ecstasy of combat, they are both proficient in melee and able to unleash magical fury".
Skill Tree
Below follow all the skills in the Rune Mastery (click on any skill to learn more):
Skill Unlocks
Mastery Progression

"Learn the secrets of runes and train to harness the fury of battle for your magic".
| Mastery Level | Strength Bonus | Dexterity Bonus | Intelligence Bonus | Health Bonus |
| --- | --- | --- | --- | --- |
| 40 | 40 | 60 | 80 | 800 |
| 39 | 39 | 58 | 78 | 780 |
| 38 | 38 | 57 | 76 | 760 |
| 37 | 37 | 55 | 74 | 740 |
| 36 | 36 | 54 | 72 | 720 |
| 35 | 35 | 52 | 70 | 700 |
| 34 | 34 | 51 | 68 | 680 |
| 33 | 33 | 49 | 66 | 660 |
| 32 | 32 | 48 | 64 | 640 |
| 31 | 31 | 46 | 62 | 620 |
| 30 | 30 | 45 | 60 | 600 |
| 29 | 29 | 43 | 58 | 580 |
| 28 | 28 | 42 | 56 | 560 |
| 27 | 27 | 40 | 54 | 540 |
| 26 | 26 | 39 | 52 | 520 |
| 25 | 25 | 37 | 50 | 500 |
| 24 | 24 | 36 | 48 | 480 |
| 23 | 23 | 34 | 46 | 460 |
| 22 | 22 | 33 | 44 | 440 |
| 21 | 21 | 31 | 42 | 420 |
| 20 | 20 | 30 | 40 | 400 |
| 19 | 19 | 28 | 38 | 380 |
| 18 | 18 | 27 | 36 | 360 |
| 17 | 17 | 25 | 34 | 340 |
| 16 | 16 | 24 | 32 | 320 |
| 15 | 15 | 22 | 30 | 300 |
| 14 | 14 | 21 | 28 | 280 |
| 13 | 13 | 19 | 26 | 260 |
| 12 | 12 | 18 | 24 | 240 |
| 11 | 11 | 16 | 22 | 220 |
| 10 | 10 | 15 | 20 | 200 |
| 9 | 9 | 13 | 18 | 180 |
| 8 | 8 | 12 | 16 | 160 |
| 7 | 7 | 10 | 14 | 140 |
| 6 | 6 | 9 | 12 | 120 |
| 5 | 5 | 7 | 10 | 100 |
| 4 | 4 | 6 | 8 | 80 |
| 3 | 3 | 4 | 6 | 60 |
| 2 | 2 | 3 | 4 | 40 |
| 1 | 1 | 1 | 2 | 20 |
Classes Made With This Mastery
| Masteries | Class |
| --- | --- |
| | Runemaster |
|  +  | Berserker |
|  +  | Runesmith |
|  +  | Stonespeaker |
|  +  | Thunderer |
|  +  | Trickster |
|  +  | Dragon Hunter |
|  +  | Skinchanger |
|  +  | Shaman |
|  +  | Seidr Worker |
Related Items
These items add points to all skills in the mastery: