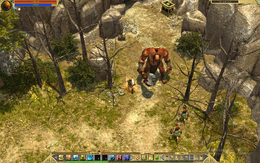 Polyphemus is a red Cyclops with a Cyclops-sized club. He can be found in the woods outside Megara, guarding his cave, which is under attack by some soldiers.
A majestic chest is found nearby, and like most "boss fights", can only be opened after its guardian is destroyed.
Unique Skills:
Earth Breaker - A wave attack that ripples out in a line from Polyphemus. More powerful than his normal attack or Stomp. Physical Damage
Stunning Shout - Polyphemus's most powerful attack. A roar attack that stuns, slows and reduces your health instantly by a large percentage (Vitality Damage). Consists of 5 projectiles
Stomp - A melee attack of Polyphemus. More powerful than his normal attack. Physical Damage
Recommended resistances: Stun, Vitality Damage
Poly's melee attacks aren't especially strong, but his shout can trap you and his wave takes a large percentage of your health. Keep your distance so you can dodge both of those, then move in and hit him a few times while he swings his club and stomps. Back off before he shouts again, rinse and repeat.
If whittling him down doesn't work for you, it is possible to make him follow you all the way back to the Megara town guard, who will be much more help than the cannon fodder you were given to start with.
In Greek mythology Polyphemus was a cyclops encountered by the hero Odysseus. Odysseus and his men were captured by the cyclops but were able to blind the creature and escape.
Steam Achievement
Edit
There is a Steam achievement where you have to kill Polyphemus while you have the Defense Mastery skill Colossus Form active:
Someone your size
Beat Polyphemus while in Colossus Form