Ruins of old Mycenaean city, now haunted by Undead, Demons and their Masters.
Map
Quests
Monsters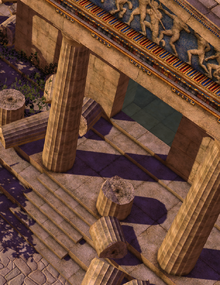 Awakened Dead Skeleton ( Undead ): Soldier, Archer, Assassin ( Champion ), Captain ( Champion ), Frost Liche ( Champion )
Festering Zombie ( Undead )
Plague Bird ( Beast )
Inside the Ancient Ruins:
Notes
Eleusis is a town and municipality in West Attica, Greece. It is situated about 18 kilometres (11 miles) northwest from the centre of Athens. In more ancient times Eleusis was a deme of ancient Attica, belonging to the phyle Hippothoöntis. It owed its celebrity to its being the chief seat of the worship of Demeter and Persephone, and to the mysteries celebrated in honour of these goddesses, which were called the Eleusinia, and continued to be regarded as the most sacred of all the Grecian mysteries down to the fall of paganism.
 See also
Greece - general information on Act I