Monsters > Beastmen > Neanderthal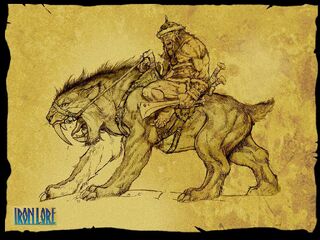 Neanderthal was a species of the Homo genus that inhabited Europe and parts of western Asia. In Titan Quest, they appear in the Orient (Act III). They specialise in hunting in different ways. They can be: Warriors, Rangers (Hunters), Mages (Shamans and Shaman's Apprentices) or Saber Riders.
Neanderthals are first encountered in the Babylon Outskirts, and are frequenty found in the mountainous regions thereafter.

Base Types
Special
Barmanu - Neanderthal High Warlord
Heroes
Unique Equipment
Primitive Girdle
Primitive Armguard
Primitive Greaves
History
Early artwork indicates that, apparently, this creature type had an initial name of Neanderthug, but as the game approached final stages of development the name was changed to Neanderthal.