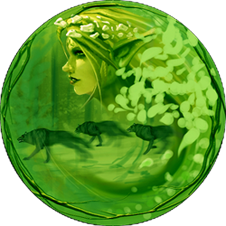 The Wanderer can call on denizens of the forest to deal damage and shield them from enemies. Healing and defensive auras allow allies to survive longer and fight more effectively.
Skill Tree
Edit
Below follow all the skills in the Nature Mastery
Mastery Level
Skills
32
24
16
10
4
1
Skill Unlocks
Edit
Skill Summary
Edit
Regrowth (Accelerated Growth - Dissemination)
Call of the Wild (Maul - Survival Instinct - Strength of the Pack)
Heart of Oak (Tranquility of Water - Permanence of Stone)
Plague (Fatigue - Susceptibility)
Briar Ward (Stinging Nettle - Sanctuary)
Sylvan Nymph (Overgrowth - Nature's Wrath)
Refresh
Mastery Progression
Edit
Grants the inner harmony and patience necessary to learn the language of wild creatures and master the hidden power of nature.
| Mastery Level | Dexterity Bonus | Intelligence Bonus | Health Bonus | Energy Bonus |
| --- | --- | --- | --- | --- |
| 32 | 48 | 80 | 640 | 512 |
| 31 | 46 | 77 | 620 | 496 |
| 30 | 45 | 75 | 600 | 480 |
| 29 | 43 | 72 | 580 | 464 |
| 28 | 42 | 70 | 560 | 448 |
| 27 | 40 | 67 | 540 | 432 |
| 26 | 39 | 65 | 520 | 416 |
| 25 | 37 | 62 | 500 | 400 |
| 24 | 36 | 60 | 480 | 384 |
| 23 | 34 | 57 | 460 | 368 |
| 22 | 33 | 55 | 440 | 352 |
| 21 | 31 | 52 | 420 | 336 |
| 20 | 30 | 50 | 400 | 320 |
| 19 | 28 | 47 | 380 | 304 |
| 18 | 27 | 45 | 360 | 288 |
| 17 | 25 | 42 | 340 | 272 |
| 16 | 24 | 40 | 320 | 256 |
| 15 | 22 | 37 | 300 | 240 |
| 14 | 21 | 35 | 280 | 224 |
| 13 | 19 | 32 | 260 | 208 |
| 12 | 18 | 30 | 240 | 192 |
| 11 | 16 | 27 | 220 | 176 |
| 10 | 15 | 25 | 200 | 160 |
| 9 | 13 | 22 | 180 | 144 |
| 8 | 12 | 20 | 160 | 128 |
| 7 | 10 | 17 | 140 | 112 |
| 6 | 9 | 15 | 120 | 96 |
| 5 | 7 | 12 | 100 | 80 |
| 4 | 6 | 10 | 80 | 64 |
| 3 | 4 | 7 | 60 | 48 |
| 2 | 3 | 5 | 40 | 32 |
| 1 | 1 | 2 | 20 | 16 |
Classes Made With This Mastery
Edit
Single class mastery:
Cross-class masteries:
Items that add a point to all skills
Edit