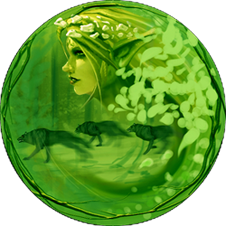 "The Wanderer can call on denizens of the forest to deal damage and shield them from enemies. Healing and defensive auras allow allies to survive longer and fight more effectively".
Skill Tree
Below follow all the skills in the Nature Mastery (click on any skill to learn more):
Mastery Progression

"Grants the inner harmony and patience necessary to learn the language of wild creatures and master the hidden power of nature".
Each point spend on Nature Mastery provides:
1.5 Dexterity
2.5 Intelligence
20 Health
16 Energy
Attribute gains from mastery use unusual rounding, for exact values at various levels refer to the table below:
| Mastery Level | Dexterity Bonus | Intelligence Bonus | Health Bonus | Energy Bonus |
| --- | --- | --- | --- | --- |
| 40 | 60 | 100 | 800 | 640 |
| 39 | 58 | 97 | 780 | 624 |
| 38 | 57 | 95 | 760 | 608 |
| 37 | 55 | 92 | 740 | 592 |
| 36 | 54 | 90 | 720 | 576 |
| 35 | 52 | 87 | 700 | 560 |
| 34 | 51 | 85 | 680 | 544 |
| 33 | 49 | 82 | 660 | 528 |
| 32 | 48 | 80 | 640 | 512 |
| 31 | 46 | 77 | 620 | 496 |
| 30 | 45 | 75 | 600 | 480 |
| 29 | 43 | 72 | 580 | 464 |
| 28 | 42 | 70 | 560 | 448 |
| 27 | 40 | 67 | 540 | 432 |
| 26 | 39 | 65 | 520 | 416 |
| 25 | 37 | 62 | 500 | 400 |
| 24 | 36 | 60 | 480 | 384 |
| 23 | 34 | 57 | 460 | 368 |
| 22 | 33 | 55 | 440 | 352 |
| 21 | 31 | 52 | 420 | 336 |
| 20 | 30 | 50 | 400 | 320 |
| 19 | 28 | 47 | 380 | 304 |
| 18 | 27 | 45 | 360 | 288 |
| 17 | 25 | 42 | 340 | 272 |
| 16 | 24 | 40 | 320 | 256 |
| 15 | 22 | 37 | 300 | 240 |
| 14 | 21 | 35 | 280 | 224 |
| 13 | 19 | 32 | 260 | 208 |
| 12 | 18 | 30 | 240 | 192 |
| 11 | 16 | 27 | 220 | 176 |
| 10 | 15 | 25 | 200 | 160 |
| 9 | 13 | 22 | 180 | 144 |
| 8 | 12 | 20 | 160 | 128 |
| 7 | 10 | 17 | 140 | 112 |
| 6 | 9 | 15 | 120 | 96 |
| 5 | 7 | 12 | 100 | 80 |
| 4 | 6 | 10 | 80 | 64 |
| 3 | 4 | 7 | 60 | 48 |
| 2 | 3 | 5 | 40 | 32 |
| 1 | 1 | 2 | 20 | 16 |
Classes
| Masteries | Class |
| --- | --- |
| | Wanderer |
|  +  | Champion |
|  +  | Guardian |
|  +  | Summoner |
|  +  | Druid |
|  +  | Illusionist |
|  +  | Ranger |
|  +  | Soothsayer |
|  +  | Ritualist |
|  +  | Skinchanger |
Related Items
These items add points to all skills in the mastery: