Monsters > Demons > Empusa > Metriche
Metriche is an empusa monster hero and one of the four bosses for the Hades' Treasury side quest in Hades, Act IV. She is a caster and mostly deals fire damage.
Upon being defeated, Metriche drops the Flame Stone quest item.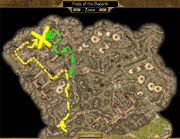 Location
Metriche always resides in the ground section of the Philos Plateau in the Fields of the Diadochi.
See Also