Monsters > Beasts > Cave Bats > Leather Wing
★ Leather Wing is a cave bat monster hero, which can be encountered in various places through the Greece. He looks like fat cave bat of turquoise color.
Skills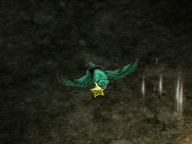 Possible Locations
Greece, Act I:
Natural Cave in Megara Coast
Ancient Ruins in Old Eleusis
Notes
His name is an obvious reference to biological feature of his specie.
See also
Goat Sucker - Almost identical another Bat Hero.