Laconia Woods is a forest region in early Greece (Act I), leading from Laconia in the south to both the Abandoned Graveyard and Laconia Hills in the north. You will encounter Harpies here for the first time.
Points of Interests
Lumber Camp
When you arrive, this place besieged by Satyrs. Within that camp you will find Lycus attacked by Satyrs. As you approach, the man will try to escape to the south - right into the hands of even more Satyrs.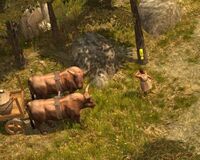 Confused Traveler
To the north you'll find man named Euphadimus. He is about to bring medicines back to his village Tegea, but the Satyrs, led by 'one of their fierce champions', are blocking the way.
Quests
People
Monsters
In Real Life
Unlike the Helos Woods, the forests of the rest of Laconia are still around, mostly hugging the hills and mountains of the region. The forests of the Peloponnese and Southern Greece in general are made up of cypress and poplar trees.
Notes
See also