Laconia is one of the first regions in Greece (Act I), leading from the Village of Helos in the west to Laconia Woods in the east.
Map of Laconia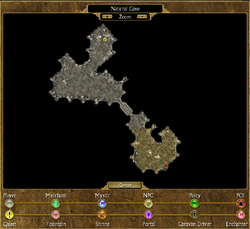 Points of Interest
Satyr Camps
There are two larger Satyr encampments in Laconia, one to the south-west and one to the north-east. You will also often find shrines near the encampments - make use of them.
Natural Cave
To the east you will find the "roadside cave" mentioned in the side quest Monstrous Brigands you got from Nicostratus when leaving Helos. Two Satyr Trappers stand guard in front of it and will retreat into the cave when you approach it (you can take them out using a bow, through).
Quests
People
Tellis - Young Shepherd. Stands on the second floor of the cave. Talking to him completes the sidequest Monstrous Brigands.

A human face? Good fortune finds me even in the darkest places of Greece. I believed I was counting my final hours.
I am Tellis. Nicostratus made it back to the village? So he's alright, then? We tended our flocks together. We are close like brothers.
These creatures live like savages - fighting and snarling amongst themselves.
If you see Nicostratus before i do, tell him i'll be along. I think I need to gather my nerves first.
Monsters
Satyr ( Beastman ): Scout, Warrior, Skirmisher, Veteran Skirmisher, Peltast, Veteran Peltast
Ravenous Boar ( Beast )
Carrion Crow ( Beast )
In Natural Cave:
Satyr ( Beastman ): Scout, Warrior, Peltast, Trapper
In Real Life
Laconia is actually a region in south-western Greece and part of the Peloponnese peninsula. In Ancient Greece, it was ruled by the Spartans. The word "laconic" (to speak in a concise way) is derived from the name of this region, as the Spartans were reputed by the Athenians to do. The region has been inhabited since the Neolithic period, with the first discernable culture found being Minoans from Crete. While the region was traditionally ruled by Sparta, it had many rulers over the years such as the Romans, Byzantium, the Venetians and the Ottomans. Nowadays Laconia is a administrative region of Greece with a total population of 89,138 people with Sparta still being the largest city in the region.
Notes
This is the first region in the game where the player encounters an interior cell (Caves, Tombs, etc.).
At the entrance to Helos, one can see a couple of Satyrs charging at the village from Laconia, though they are always defeated as the guards of Helos can't die.
See also
Greece - general information on Act I