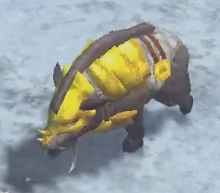 Monster > Beast > Boar > Hildisvini
Hildisvini - Golden Boar is the war boar of Freyja. He is the Boss Monster guarding the entrance of Sithun in Scandia.
Resistances
As a boss monster he is immune to Controls and almost immune to percent health and energy damage.
Abilities
Hildisvini is basically a melee attacker, however he uses some skills.
Strategy
Recommended resistances:
Trivia
Hildisvini drops a huge amount of gold on death.