Eurynomus are a monsters in Titan Quest, found in caves and tombs in Greece (Act I), Egypt (Act II) and The North (Act V). They are demons and are usually gathered around a Bone Pile.
Monster Charm: May drop a Demon's Blood fragment.
Eurynomus Variants
Edit
Bonepicker. Light green or brownish green in color. Can be found in Greek caves and tombs. Weak close combat fighter, who attacks with his claws.
Corpse Monger ( Champion ). Brown in color and a bit larger than Bonepickers. Can be found in Greek caves and tombs. Acts like Bonepickers in all aspects, but has slightly higher damage.
Flesh Eater (red or purple), found in Egyptian tombs
Lifethirster (black), found in Egyptian tombs
Bodyfeaster (blue), found in caves of The North
Eurynomus Bosses
Edit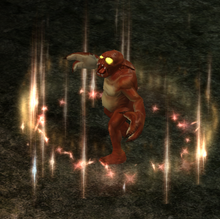 In Greek mythology, Eurynomos (/jʊəˈrɪnəməs/; Greek Εὐρύνομος; Latin Eurynomus) was the netherworld daimon (spirit) of rotting corpses dwelling in the Underworld. ( Wikipedia )
Community content is available under
CC-BY-SA
unless otherwise noted.