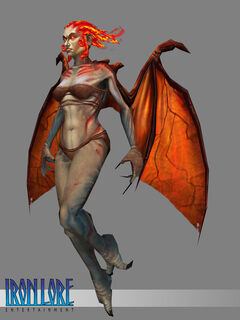 Empusa (pl. Empusae, from Ancient Greek έμπουςα, έμπουςαι) is a Demon who can be found in numbers in demolished towns, ruins of Hades (Act IV) and in Hades' Palace.
They always attack with elemental magic from far away, but are not excessively fast or resistant. However, all of them have a special elemental attack which can be very dangerous, especially the Soul Carver's. A Soul Carver hero is fought near the end of Paseron ruins as a boss for a quest, while four other heroes (each for every element) are found scattered in different places of Hades, each of them holding an elemental crystal which is required to open Hades' Treasure Chamber.
Types
Heroes
Special
Unique Equipment
Occasionally Empusae will drop wizard equipment. Special rare items include a unique staff which can cast all the elemental attacks casually.
Strategy
Recommended protection:
Gallery