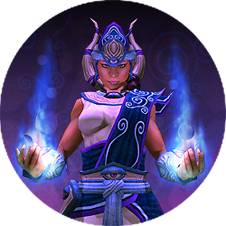 Drawing power from the dream world, the Seer uses sheer force of will to dominate the battlefield. The arcane workings of the psyche, time and reality itself are all playthings for those who have mastered the secrets of the mind.
Skill Tree
Edit
Below follow all the skills in the Dream Mastery
Mastery Level
Skills
32
24
16
10
4
1
Skill Unlocks
Edit
Skill Summary
Edit
Sands of Sleep
Psionic Touch (Psionic Burn)
Distortion Wave (Chaotic Resonance - Psionic Immolation)
Trance of Empathy
Lucid Dream (Premonition - Temporal Flux)
Phantom Strike (Dream Stealer)
Summon Nightmare (Hypnotic Gaze - Master Mind)
Trance of Convalescence
Distortion Field
Distort Reality (Temporal Rift)
Trance of Wrath
Mastery Progression
Edit
Expand your consciousness to draw more deeply from the power of the dream realm and exert your will upon physical reality.
| Mastery Level | Strength Bonus | Intelligence Bonus | Health Bonus | Energy Bonus |
| --- | --- | --- | --- | --- |
| 32 | 64 | 56 | 1120 | 256 |
| 31 | 62 | 54 | 1085 | 248 |
| 30 | 60 | 52 | 1050 | 240 |
| 29 | 58 | 51 | 1015 | 232 |
| 28 | 56 | 49 | 980 | 224 |
| 27 | 54 | 47 | 945 | 216 |
| 26 | 52 | 45 | 910 | 208 |
| 25 | 50 | 44 | 875 | 200 |
| 24 | 48 | 42 | 840 | 192 |
| 23 | 46 | 40 | 805 | 184 |
| 22 | 44 | 38 | 770 | 176 |
| 21 | 42 | 37 | 735 | 168 |
| 20 | 40 | 35 | 700 | 160 |
| 19 | 38 | 33 | 665 | 152 |
| 18 | 36 | 31 | 630 | 144 |
| 17 | 34 | 30 | 595 | 136 |
| 16 | 32 | 28 | 560 | 128 |
| 15 | 30 | 26 | 525 | 120 |
| 14 | 28 | 24 | 490 | 112 |
| 13 | 26 | 23 | 455 | 104 |
| 12 | 24 | 21 | 420 | 96 |
| 11 | 22 | 19 | 385 | 88 |
| 10 | 20 | 17 | 350 | 80 |
| 9 | 18 | 16 | 315 | 72 |
| 8 | 16 | 14 | 280 | 64 |
| 7 | 14 | 12 | 245 | 56 |
| 6 | 12 | 10 | 210 | 48 |
| 5 | 10 | 9 | 175 | 40 |
| 4 | 8 | 7 | 140 | 32 |
| 3 | 6 | 5 | 105 | 24 |
| 2 | 4 | 3 | 70 | 16 |
| 1 | 2 | 2 | 35 | 8 |
Classes Made With This Mastery
Edit
Single class mastery:
Cross-class masteries:
Items that add one point to all Skills
Edit