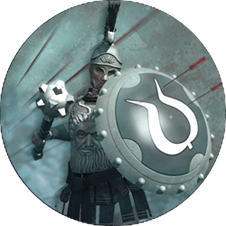 The Defender specializes in surviving battles but offers little in the way of offensive enchantments. Many skills focus on utilizing the shield to deflect attacks and disable enemies.
Skill Tree
Edit
Below follow all the skills in the Defense Mastery
Mastery Level
Skills
32
24
16
10
4
1
Skill Unlocks
Edit
Skill Summary
Edit
Concussive Blow
Battle Awareness (Focus - Iron Will)
Batter (Rend Armor)
Armor Handling
Adrenaline (Resilience - Defensive Reaction)
Rally (Inspiration - Defiance)
Quick Recovery
Shield Smash
Shield Charge (Disruption)
Disable
Colossus Form
Pulverize
Mastery Progression
Edit
Provides the fortitude and strength to master skills for the protection of yourself and others.
| Mastery Level | Strength Bonus | Dexterity Bonus | Health Bonus | Energy Bonus |
| --- | --- | --- | --- | --- |
| 32 | 48 | 64 | 1600 | 0 |
| 31 | 46 | 62 | 1550 | 0 |
| 30 | 45 | 60 | 1500 | 0 |
| 29 | 43 | 58 | 1450 | 0 |
| 28 | 42 | 56 | 1400 | 0 |
| 27 | 40 | 54 | 1350 | 0 |
| 26 | 39 | 52 | 1300 | 0 |
| 25 | 37 | 50 | 1250 | 0 |
| 24 | 36 | 48 | 1200 | 0 |
| 23 | 34 | 46 | 1150 | 0 |
| 22 | 33 | 44 | 1100 | 0 |
| 21 | 31 | 42 | 1050 | 0 |
| 20 | 30 | 40 | 1000 | 0 |
| 19 | 28 | 38 | 950 | 0 |
| 18 | 27 | 36 | 900 | 0 |
| 17 | 25 | 34 | 850 | 0 |
| 16 | 24 | 32 | 800 | 0 |
| 15 | 22 | 30 | 750 | 0 |
| 14 | 21 | 28 | 700 | 0 |
| 13 | 19 | 26 | 650 | 0 |
| 12 | 18 | 24 | 600 | 0 |
| 11 | 16 | 22 | 550 | 0 |
| 10 | 15 | 20 | 500 | 0 |
| 9 | 13 | 18 | 450 | 0 |
| 8 | 12 | 16 | 400 | 0 |
| 7 | 10 | 14 | 350 | 0 |
| 6 | 9 | 12 | 300 | 0 |
| 5 | 7 | 10 | 250 | 0 |
| 4 | 6 | 8 | 200 | 0 |
| 3 | 4 | 6 | 150 | 0 |
| 2 | 3 | 4 | 100 | 0 |
| 1 | 1 | 2 | 50 | 0 |
Classes Made With This Mastery
Edit
Single class mastery:
Cross-class masteries:
Items that add a point to all skills
Edit
Required player level: 12