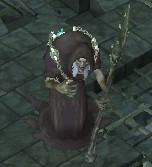 "No one may pass ... Rise !"
Charon - Ferryman of the Styx is a two phase boss guarding the Unfinished Bridge.
He drops Charon's Oar which you need for the side quest One Who Would Lead.
Resistances
As a boss monster he is immune to Controls and almost immune to percent health and energy damage.
Abilities
Charon's melee attacks in both phases deal Physical, Cold and Vitality Damage.
First Phase
Geyser: Charon raises some pillars of water from the Styx. If you step into a water pillar, you will suffer strong Cold and Vitality Damage. He will always shout "River, rise !" or laugh before casting this spell.
Summon Shades: Summons two Shades to fight for Charon. They do a lot of bleeding damage.
Water Projectile: Summons a ball of water from the Styx dealing high Cold and Vitality Damage when it lands.
---
Second Phase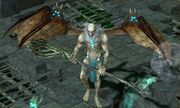 Strategy
Important resistances:
Avoid staying on the unfinished parts of the bridge as Geyser will rise from these spots and will instant kill you. Try to run away from him when he will Stomp in his second phase, and also try to dodge Tidal Wave however it might be difficult because of wave length and size. Water Projectiles are dangerous but Charon have a slow fire rate with those projectiles so you will be able to take potions to survive.